Webinar on e-ferries: electric mobility on waters – a contribution to clean shipping
In his presentation about "Daily e-Ferry operation – state of play and experiences of an operator" Mr Garbe gave an overview on ferry operations in different cities and places in Germany where Weisse Flotte GmbH is involved. His explanations gave deep insights into technical and operational experiences and lessons learnt from previous projects as well as some remarks on technical issues occurring in daily operations and measures undertaken to overcome them. As an overall resume he stated that traffic with electric ferries with high frequency based on a dense timetable is possible and economic.
Afterwards Mr Kiel talked about "Financial aspects for implementation – opportunities, obstacles and demands to politics". He presented his project which deals with consulting and giving advice to companies and authorities on the topic of funding opportunities in the area of environment and climate protection. There are more than 3000 major funding programs in Germany, regional and federal, with a big variety of focuses and aspects. Most of them aim at land-based electric mobility. A specific funding source to promote and foster electric waterbound mobility like electric ferries is not available yet. There are programs for refitting of ships, for exchange of engines with less exhaustion, transformation to LNG etc.. However, there are some proposals to change the directives to more electric engines as well.
Main experiences
For ferries traveling under a tough schedule as part of the public transport (the example was Berlin), there are some, especially technical, issues in the electric system, the magnetic mooring system and some controllers that surfaced under these conditions, but could be fixed. An additional advantage in this example is that these ferries are also equipped with solar panels that make up some of the limited installed engine power, in order to ensure the travel distance is possible. Operators steering the ships on a daily basis reported about a comfortable handling and maneuvering of the ship.
Regarding the City of Rostock, there is an option that as part of necessary renovations or renewals of ships an electrification and/or a deployment of hybrid electric drives will bediscussed, based on experiences made in Berlin.
Most important recommendations
Although electric engines for water vehicles can be traced back to 1839, such electrification and the necessary equipment for modern ferries and further for seagoing ships is a technical challenge.
Technical solutions are developing fast and there is sufficient evidence that this progress will continue, also making the technology prices decrease.
Learn from experiences made by the first movers, and know the conditions of operation, the waters, the weather afor your specific use case.
ATI Küste GmbH Association for technology and innovation, DE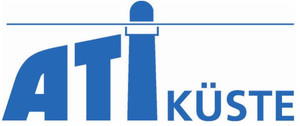 Alexander John
Thomas Kozian
ATI Küste GmbH - Gesellschaft für Technologie und Innovation
Schonenfahrerstraße 5
18057 Rostock, Germany
Phone: +49 381 12887-45
Fax: +49 381 12887-11
john@ati-kueste.de
kozian@ati-kueste.de
Website