13.03.2018
The world's first fully electric ferry service in operation in Norway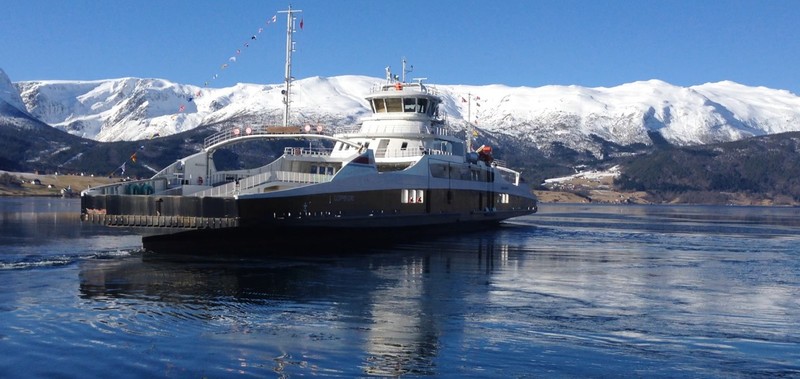 "Running a ferry connection with only battery ferrys is the first important step in the big shift to a green maritime sector. In the next few years there will be around 50 ferries with batteries, most of them built by Norwegian shipyards. The next step is to make other types of ships free from climate gas emissions", said Marius Gjerset, Technology Manager of ZERO (Zero Emission Resource Organisation).
Worldwide shipping traffic accounts for a significant part of the global climate gas emissions. Norway has taken a leading position on the development of emission-free vessels. The first electric car ferry, "Ampere", was put into operation in 2015. In addition to battery car ferries, the Norwegian maritime industry has developed the electric sightseeing vessel "Future of The Fjords" and the plugin hybrid version "Vision of The Fjords", and an electric and autonomous container ship "Yara Birkeland" is under development and construction. By 2021, it is planned to operate over 60 new ferries with fully electric or hybrid solutions in Norway. Norwegian shipowners and shipyards develop technological solutions for different kinds of ferries and ships. Thus, the development of renewable and emission-free ships can be both profitable for Norway and important for the global climate.
"One of Norway's most important contributors to climate solutions is to develop emission-free ships in all categories, and help build an early market for these. Then we lay the foundation for emission-free ships to phase out today's diesel-powered ships", says Gjerset.
A prerequisite for Norway to succeed is good political decisions on zero-emission requirements for all new ships to be purchased in the future, requirements for emission-free fjords and ports, and a forward-looking industry that develops and uses new emission-free solutions.
Zero Emission Resource Organisation (ZERO), NO
Jenny Skagestad
ZERO - Zero Emission Resource Organisation
Youngstorget 1, 0181 Oslo, Norway
Phone: +47 92 61 09 95
jenny.skagestad@zero.no
Website