26.09.2019
BSR-E joins the 2019 Civitas Conference along with CMM and SUMBA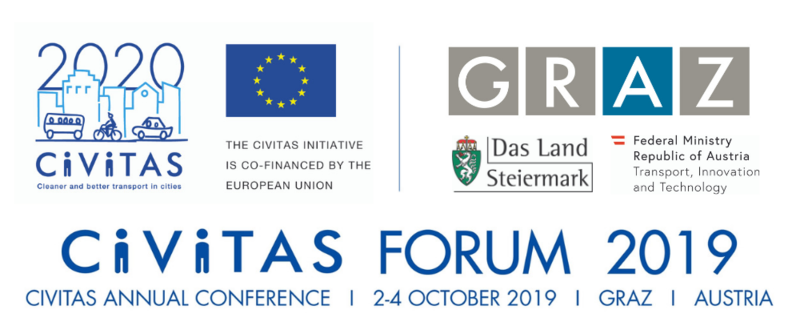 The CIVITAS Forum is one of Europe's top sustainable urban mobility events and annually gathers the leading figures in the field. There will be city representatives, practitioners, policymakers and academics debating and analysing the most pressing mobility topics and witness the pioneering solutions bringing cleaner, better transport to Europe.
In this context, three of Interreg BSR's projects running since 2017 under priority 3 'Sustainable transport' are participating and presenting their Interreg-funded ideas and solutions for sustainable mobility in the Baltic Sea Region.
The BSR electric project has its focus on implementing and fostering e-mobility in urban areas. To do so, it is working on 7 use cases, which are piloting the use of different modes of e-transport, such as e-bikes, e-scooters, e-logistics, e-buses and e-ferries (www.bsr-electric.eu).
In the cities.multimodal project, 10 city partners, together with 6 supporting partners, implement different measures to increase multimodal mobility in their city center areas. Through physical multimodal mobility points, campaigns and innovative mobility management concepts, they aim to provide comfortable and sustainable options for their citizens to move around. (www.cities-multimodal.eu)
SUMBA is tackling the issue of commuter traffic. The urban transport system can be reshaped into an intermodal network that offers a combination of various transport modes. This helps cities to achieve a more attractive and environmentally friendly commuting system. SUMBA will develop and test tools that help urban and transport planners to assess, plan, and integrate intermodal mobility solutions into transport plans and policies of their cities and municipalities. (sumba.eu)
There are many linkages between the projects that the partners will further discuss at the conference, also with ideas and colleagues from other projects around Europe. Should you be part of the Interreg BSR family and also attending the conference, please drop by for some networking and exchange!
All three projects can be found at their shared booth in the Congress Graz on the 1st floor – stand 169.
Hamburg University of Applied Sciences, DE

Prof. Dr. (mult.) Dr. h.c. (mult.) Walter Leal
Franziska Wolf
Arjun Jamil
Marion Mundhenk
Nicolas Restrepo Lopez
Research and Transfer Centre "Sustainability and Climate Change Management"
Hamburg University of Applied Sciences
Ulmenliet 20
21033 Hamburg
T +49.40.428 75-6324 / -6331 / -6358
bsr-e@ls.haw-hamburg.de
Website